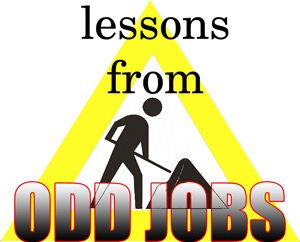 Marcus Goodyear solicits a story from me about an odd job I've had.
As ordinary as the job might normally have been, it became an extremely odd one the day I had to tell 10% of the firm that they were being laid off… effective immediately.
How it became my job to fulfill this grievous and thankless task, I'm not quite sure. I remember dreading it for days. I remember the look of shock on each person's face. I remember every question about their future well-being, for which I had no answer.
Life and work collide in strange ways at times. Decisions ensuring the well-being of the whole result in harm for more than a few. Short term harm, we hope and trust. But we do not know.
Once the employment relationship is severed, other forms of relationship feel awkward… even inappropriate. Who am I to ask about their feelings, when I have just upended their world from my position of power and security?
It's the difficult decisions that make us think most deeply; feel most intensely; and, hopefully, choose most courageously. We don't get to track the future implications, consequences, and eventualities that came of that fateful day. I am left holding neither all the responsibility nor no responsibility for all the choices by all the people involved from that point on.
It's life and work in real time. Often it involves the oddest jobs.