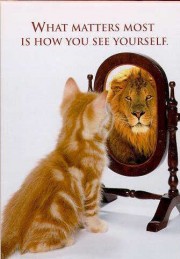 So what's the big deal with how others perceive me?
I can't control what another person thinks. I can't force them to change their mind about me if they have settled on some incorrect perception.
The big deal is that those other people are making decisions that affect you. To the extent that their perception about who you are and what you bring to the professional table is incorrect, so will their decisions be.
Decisions like whether to hire you, promote you, invest in your training, or in the worst case, lay you off in a recessionary season.
While you cannot make someone see what they will not or cannot see, you can exert influence.
Our conversation topic this month is how our resume can be a powerful perception influencer. That is, if we accept responsibility for choosing how we present our professional interests and work history.
Begin by listing three responsibilities you would love to have in a job, even if you don't have any work experience in them.
Now turn each of them into a job title, however silly it might sound. For example, if I want to be in charge of the development of a new product and lead the process from beginning to end, I might call myself a "Project Manager" or a "Lead Designer" or a "Brilliant Idea Implementor."
The idea is to create for yourself some job-related vocabulary that would be helpful for describing yourself in terms of what you want to do next.
Try it. Share one or all three of your desired responsibilities and corresponding job titles in a comment here.
On your side,
- Karl Edwards
---