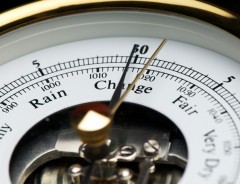 Change can be unexpected, disruptive, and beyond our control.
Change can be difficult to cope with, experienced as loss, or trigger disappointment.
I'd like to suggest—without dismissing or minimizing any of the above—that unexpected, disruptive, disappointing change can also present an opportunity.
Change presents the opportunity to rethink, reorient, and reinvent ourselves.
It's a silent presentation, though.
No bells and whistles. No announcements. No embossed invitation.
Easy to overlook. We find it easier to focus on the loss of what we had before.
While the road ahead looks at first blush like a dead end, a closed door, or an insurmountable series of obstacles, it might also be a fortuitous detour, an unanticipated change of address, or a free training course that prepares you for a future challenge. 
The key lies in how we choose to react to the change.
If we focus on what we have lost, we will react differently than if we focus on what opportunity might now present itself.
We can choose a loss experience, or we can choose an adjusting experience.
Stay tuned for the next installment on Unexpected Change: The Hidden Opportunity, where we will unpack what it means to "rethink, reorient, and reinvent" ourselves.
On your side,
- Karl Edwards