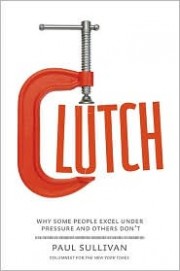 I heard Paul Sullivan speak yesterday at the Milken Institute in Santa Monica. The subject, of course was his book, Clutch: Why Some People Excel Under Pressure and Others Don't.
While much of the audience wanted to cling to a romantic definition of "clutch" that was significantly different than Sullivan's, I thought he did a great job of carving out a specific angle that both set the stage for his research into extraordinary performers as well as make "clutch" performance attainable for anyone.
Specifically, he is examining how some people can continue to do what they are capable of doing on an ordinary basis under pressure. The key being, "do what they are capable of doing on an ordinary basis." This is not a book on heroics, luck or extraordinary achievements.
I've already purchased my copy and am considering using Clutch for my next "Thought Leaders Unpacked" series so that we can think through Sullivans observations together.
He works his way through five characteristics of "clutch" performers.
Focus
Discipline
Adaptability
Being Present
Fear and Desire
He also offers three reason why others do not perform well under pressure.
Failure to take responsibility
Overthinking decisions
Overconfidence
Keep your eyes and ears open for my decision about the next book we study together in "Thought Leaders Unpacked." Clutch looks like an interesting, practical, and encouraging option.
If you are in Los Angeles and not attending the

Milken Institute's free forums

, you are missing out on a great resource. They invite extremely interesting people to introduce their latest books in the context of an open forum. There is time for Q & A and always a book signing.
"Thought Leaders Unpacked" is a regular column on this blog where we read a key book together, and I post my reflections on one chapter each week. My reflections are my own and are intended to generate conversation, catalyze additional thinking and encourage mutual learning.