Would you believe I lost my notes for this blog post in all the clutter on my desk?
I hope not. While I definitely fall into the seriously cluttered category, such poetic irony is not my lot this morning. But it did make for a fun lead-in sentence.
Welcome to a fresh discussion on clutter.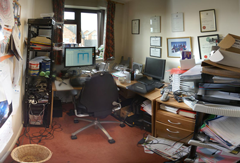 Instead of simply declaring war on clutter as the arch enemy of all that is good and effective in the workplace, our special guest, Jorge Rosas, web developer and producer of this podcast, and I will think out loud over the next five weeks about how to figure out what level of clutter works best for you.
The possibilities for creating clutter seem to be growing logarithmically, and in order to stay effective we need to adjust quickly.
Not only do we have messy desks, we have messy computer desk tops. We have technology clutter. We have communication clutter. We have relationship clutter.
The disorienting piles in every category seem to grow out of control before we've even learned how to use them.
You're going to enjoy this series. Clutter need not be our enemy. Nor is it a benign growth.
It's an open question: is clutter your friend or your foe?
Clutter: Friend or Foe?
Week #1: Dispelling Myths About Clutter
Week #2: All Those Social Networks
Week #3: All Those Tech Tools
Week #4: All Those Communication Options
Week #5: All That Stuff On Your Desktop 
Listen in.