Have you ever had someone make an observation that strikes you—however unexpected or novel—as absolutely true?
Has that observation ever been something about you?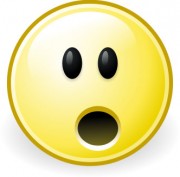 It can be difficult to hear information about ourselves that does not jive with our self-perception. Whether positive or negative, such new data can catch us off guard. So off guard, in fact, that we either simply do not hear anything or quickly dismiss everything.
It can also be difficult because many observations are, in fact, inaccurate. They may arise out of the other person's unmet needs, skewed perspective, and/or unrelated frame of reference. We need to be discerning about how much weight we give to the voices that would seek to influence us.
Every once in a while, though… On the rare and exceptional day… will intrude a word of truth so profoundly insightful that it slips past our defenses… overcomes our deeply entrenched self-perceptions… and outmaneuvers our ever-shifting and ever-shortening attention spans.
And we pause.
We stop dead in our tracks as I did the other day and exclaim to ourselves, "Oh my God."
Helpful insights don't spell out for you what you need to do with the information. They simply share the information.
That leaves us (me) with the task of personal reflection, discerning research and creative experimentation. A task I welcome even as I welcome—however tentatively—this unexpected new information about myself.
Check back here for updates on my process and what I mean by personal reflection, discerning research and creative experimentation.
Keeping It Real is a column where I put what I am learning out on the table. No faking. No posturing. No pretending. Just learning. Always learning. 
Beware of the teacher or leader who is not always learning themselves.