A fun gift the less organized among us should give ourselves occasionally is to "tip the desk."
Not only is it a lot of fun (yes, I have indulged), the combination of a clean desk and the catharsis of acting out so dramatically makes for a powerful attitude boost.
A bit impractical you figure, until, of course, you realize that your piles could not become any less organized on the floor than they are already on top of your desk.
After prudently removing breakable items like the computer, telephone, and paper-clip sculpture your son made for you, plant your feet firmly, hold your back erect, and lift the desk to that precise angle where the mountains of paper go careening onto the floor.
As you set your perfectly clean desk down and settle back into your chair, you will notice that those unseemly mounds now lie conveniently out of view.
After reacquainting yourself with its sleek, smooth surface, step around the desk, select one item from the "differently organized" piles on the floor, and return to your seat to enjoy an uncluttered, focused effort.
On your side,
– Karl Edwards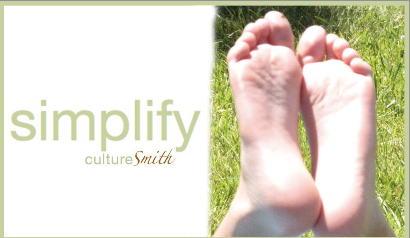 Cheryl Smith hosts a wonderful blog over at CultureSmith. If you aren't a regular visitor start today.
Today's post is in response to her "The Simplify Journey" column and call for contributions.
Join the conversation.