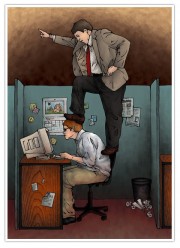 A raw mixture of disappointment and anger motivates this series.
In the wake of our biggest and most complex economic crisis since the Depression, our business and political leaders are functioning like ostriches with their heads in the sand as if anything they don't see won't really be happening.
Instead of the thoughtful, probing rethink of policies and practices that have proved themselves disastrous, these leaders are simply waiting on the sidelines… continuing with all that we now know doesn't work and squandering a significant—and possibly limited—opportunity to learn and change in deep and transformative ways.
More than a personal disagreement about approach, I want to identify these practices out for what I am convinced they are: Leadership Bullshit.
Leadership Bullshit is the public bravado that those with power muster to disguise their own lack of knowledge, capabilities and integrity about how to proceed forward in these challenging times. They mistakenly interpret those three deficiencies as weaknesses to be hidden at all costs instead of learning edges to be addressed in partnership with their peers, staffs and coaches.
In this next audio series, Claudia and I have some fun pointing out that the proverbial emperor is wearing no clothes.
Join the conversation and share your own experiences where the leaders in your life have tried to pull any of the following stunts.
Leadership B#llsh&t in a Tough Economy
Week #1: Brainless Downsizing
Week #2: The HR Cop-Out
Week #3: The Fine Art of Blaming
Week #4: Fear & Panic on Main Street
Week #5: Political Mumbo-Jumbo
Listen in.