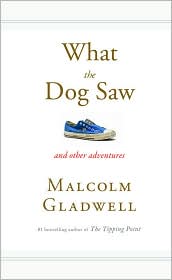 I just picked up a copy of Malcolm Gladwell's new book, What the Dog Saw and Other Adventures. I grabbed it the minute I saw it. The very second, in fact. Those around me wisely waited while I examined every copy for flaws. Cradling my perfect baby, I made a beeline to the cashier.
It wasn't until I got it home that I realized it's not a new work at all. It's a collection of his New Yorker articles. The best in his view.
After I recovered from this brief moment of disappointment (not a big fan of the recompiling for a second round at the till marketing strategy)(I'd probably be singing a different tune if I ever experienced a first round at the till), I realized that the only part of the New Yorker I've ever read are the cartoons. So I'm sitting here with all "new" material.
I love this guy's work. The preface alone has me fully engaged. Understanding what's going on in someone else's head.
There are three main themes/sections:
Obsessives, Pioneers, and Other Varieties of Minor Genius
Theories, Predictions, and Diagnoses
Personality, Character, and Intelligence
Of course I can't read something so fun by myself. This is the stuff of incredulity and hilarity, insights and further reflection.
So read with me. We'll take it a chapter at a time. We'll meet here and share impressions, reactions and our own takes.
I've got Amazon links scattered throughout this post. Grab your copy now. We're going to begin right away.
Each Friday I post my reflections from one chapter of What the Dog Saw by Malcolm Gladwell. If you are just joining the discussion now, welcome! Catch up on the entire series here.