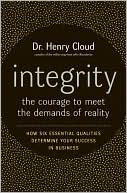 Given that denial is one of my favorite coping mechanisms, it might seem odd that I would ever pick up a book about meeting "the demands of reality."
But here I am. Again.
I feel like I've been wrestling with this book, Integrity: The Courage to Meet the Demands of Reality, since it first came out in 2006. It seems that when learning needs to go deeper than simply acquiring new competencies, that time (read years) and practice (read many mistakes) are involved.
Hence the rationale for working through this challenging piece together here on "Thought Leaders Unpacked."
For many of us there is an unnoticed disconnect between our job performance and our self-understanding. When we think about work, we think about the tasks, responsibilities, goals, processes, and deadlines involved. We don't have tools for considering how we ourselves might be a part of the problems we are trying to address.
When thinking about ways to help our employees work harder and smarter, we seldom include our own behavior in the mix of factors contributing to their shortcomings, challenges, or motivation levels.
A mirror and a map. Where can we find a mirror that will help us take a look at ourselves? What maps are available to help us navigate a more centered, realistic approach to developing our own character at work?
Join me in conversation each week as I post my reflections on one chapter of Integrity. There is no learning like learning from each other.
Integrity: The Courage to Meet the Demands of Reality
Introduction: Why Integrity Matters
Character Dimension 1: Establishing Trust
Character Dimension 2: Oriented Toward Truth
Character Dimension 3: Getting Results
Character Dimension 4: Embracing the Negative
Character Dimension 5: Oriented toward Increase
Character Dimension 6: Oriented Toward Transcendence
Forward this post to someone you think would benefit from our discussion. Every voice matters.