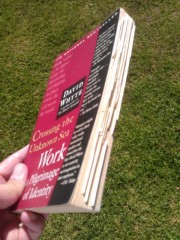 Yes, those are post-it notes you see crowding the edge of my copy of Crossing the Unknown Sea: Work as a Pilgrimage of Identity by David Whyte.
From the looks of it you might think I marked every single page. You wouldn't be much mistaken. I devoured this book.
This book is about the process of finding work that adequately, fittingly, and meaningfully integrates with one's own life development jouney.
From the publisher:
Crossing the Unknown Sea is about reuniting the imagination with our day to day lives. It shows how poetry and practicality, far from being mutually exclusive, reinforce each other to give every aspect of our lives meaning and direction. For anyone who wants to deepen their connection to their life's work—or find out what their life's work is—this book can help navigate the way.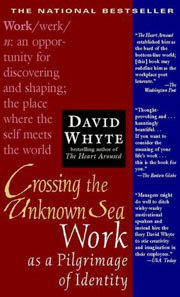 As suggested by the title, this book is for the pilgrim… the person on a journey of self-discovery and professional expression. 
Here's a sampling of my many marked quotes:
"The soul would rather fail at its own life than succeed at someone else's."
"Finding good work… means coming out of hiding."
"Do one thing every day toward my future life."
"What stops us from speaking out and claiming the life we want for ourselves?"
"The antidote to exhaustion is wholeheartedness."
"…the ability of anything followed unthinkingly, to turn into its exact opposite."
"The courage to remain unutterably ourselves in the midst of conforming pressures."
You can probably tell from the quotes that this is not a book of formulas, tests, assessments, or answers.
My list of pull quotes most likely seems to you either attractive and intriguing or off-putting and irrelevant.
This book is for those of you who see yourselves on an inner journey in search of a professional form.
Click here for a link to get a copy.
Karl's Library is a weekly column highlighting my favorites from my professional development library. "Always learning" is one of the pillars of my personal mission statement. Explore past columns here.
If you're a Kindle fan like I am, it is available for the Kindle.
Don't have a Kindle? Get one! You'll love it.