Who ever thought we'd experience such a thing as "friend clutter"?
Personal news, corporate offerings, family pictures, and myriad invitations fill our inbox, our friend stream, and our messaging windows.
Contact comes from people we want to hear from and also from many we don't really care to know so much about.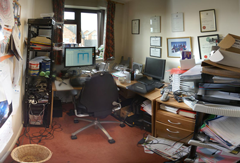 What's one to do?
In this week's podcast discussion web developer Jorge Rosas and I discuss all those social networks and the new form of clutter they can create for us.
How many social networks can one person belong to and still participate in any of them in a meaningful way?
How many streams of information can be flashing before one's eyes before one cannot see any of them? Talk about potential distractions to someone trying to focus on getting work done!
Listen in.