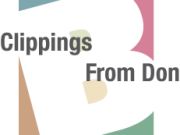 One of the reasons Scott Adams is so funny is because the situations underlying his humor are so real.
His article in the weekend Wall Street Journal, "The Perfect Stimulus: Bad Management" is the perfect example.
If you want a good laugh as you absorb some entrepreneurial insights, then click on over to his article on why bad management is the cornerstone of the entrepreneurial spirit in this country.
You'll enjoy great one-liners like, "The primary purpose of management is to kill any hope that staying in your current job will work out for you… Remember, only quitters can be winners, because you can't do something great until first you quit doing something that isn't."
And my favorite, "I think we all understood that working in a cubicle and being managed by Satan's learning-challenged little brother was not a recipe for happiness."
Sometimes the only way to keep from crying about work is to laugh about it.
You know I'm here if you want to talk about your situation at work. If we haven't met yet, sign up for a free 30-minute consultation about your hamster-brained boss.
Voracious reader friend Don Silver always has an eye out for what interests me. Clippings from Don is a column where I pass on some of these articles, stories and resources to you.