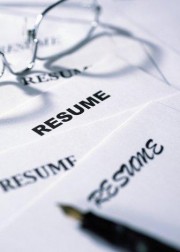 Toughing out a tough job is no one's preference. In our current podcast discussions, though, we're acknowledging that there do exist situations and seasons when staying put is the wisest course of action.
Vital is to affirm your own value along the way. Articulating your attributes, skills and experience serves as a reminder that you have options, even if they are limited. A reminder that your choice to stay in your current job is a choice of power, not powerlessness.
One of the best tools for articulating one's value is the resumé.
In what shape is your resumé?
Rewriting your resumé will do a couple different things for you:
Help you present yourself in terms of how you want to be perceived.
Help you describe your work experience as qualifications for what you want to do next.
In the process your confidence will feel more grounded and your energy for toughing out the current tough job will multiply.
There is nothing like the mirror of a good resumé to get excited about yourself.
As always, I'm here to help. If you'd like a partner in recasting your resumé, let's talk.
On your side,
- Karl