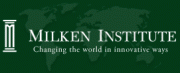 Don't miss today's live webcast at the Milken Institute!
I love anything the Milken Institute puts together. Today is a discussion on the economy with the presidential candidates' advisers. (Michael J. Boskin representing McCain and Leo Hindery, Jr on behalf of Obama.)
I usually attend these live events, but today's filled almost as soon as it was announced. The Milken Institute is generously making it available online.
The discussion is today, Wednesday October 22nd, from 4:30 p.m to 6:00 p.m PST.
Don't miss it. You can watch it on the Milken Institute's web site.
On your side,
- Karl Edwards