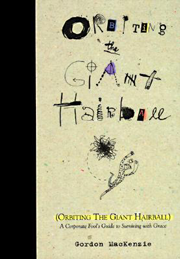 Both fun and helpful, Orbiting the Giant Hairball: A Corporate Fool's Guide to Surviving with Grace is a treat you should not deprive yourself.
Organization as hairball. Does it get any clearer than that?!
Many of us experience our corporate systems getting in the way more than helping us along. As is commonly noted, it takes seven authorizations to get a new idea approved, but only one rejection to kill it.
From the publisher:
"Creativity is crucial to business success. But too often, even the most innovative organization quickly becomes a "giant hairball"–a tangled, impenetrable mass of rules, traditions, and systems, all based on what worked in the past–that exercises an inexorable pull into mediocrity."
Gordon MacKenzie is hilarious. He shares from his own personal experience how he learned to survive and even thrive in a corporate context.
Instead of getting entangled in the corporate hairball, learn to orbit it!
This book is one of my favorites. Especially if you don't care for the textbook approach that characterizes most leadership books. You'll feel right at home laughing and learning with Gordon Mackenzie.
Karl's Library is a weekly column highlighting my favorites from my professional development library. "Always learning" is one of the pillars of my personal mission statement. Explore past columns here.
Sadly, this book is not available for the Kindle. 
Don't have a Kindle? Get one! You'll love it.